Woodbine™ Jams & Jellies, Inc.

122 Umbarger Rd.
Richwood, WV 26261
304-846-9661
E-mail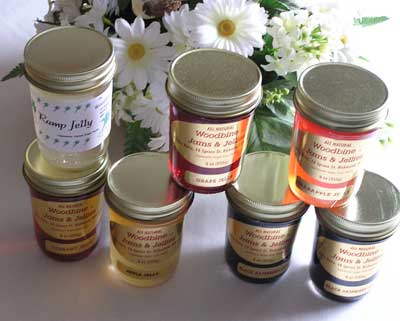 This small batch jams and jellies company is proof that "good things come in small packages. "
When Libby Deitz started Woodbine Jams and Jellies over 14 years ago, she had already made jams and jellies as a hobby for more than 50 years. She sold her products for church and school projects. She was a retired educator who had served as a classroom teacher and a principal for 37 years.
Libby and her associate, Levada Hodovan, started the all natural Woodbine Jams and Jellies business when Libby was 80 years old. Although Libby resided in a nursing home facility the last two years of her life, Levada carried on the tradition and the same quality of the original products. Seventeen flavors plus the newest "Ramp Jelly" are available.
Libby passed away January 18, 2010 at the age of 94. A memorial service was held for her on May 15th at the Richwood First Presbyterian Church and a Memorial Tea was held at the home of Sue Wilcox on April 27 in Richwood.
Woodbine Jams & Jellies make great gifts for all occasions - birthdays, showers, graduations, "Thank You", Christmas, etc.
Please visit our order page to place your order or pick up our products at one of our outlets. We use a PayPal shopping cart on a secure site and we ship by the US Postal Service.